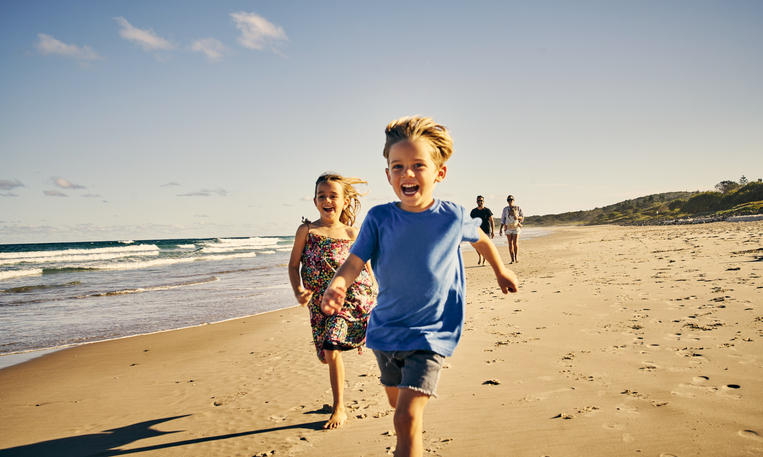 Get ready for a fun day out with the kids at Hermosa Beach, CA. Check out these family-friendly activities you can do aside from sitting on the sand:
Walk along the Hermosa Valley Greenbelt

The Hermosa Valley Greenbelt is a 3.5-mile trail that meanders along lush vegetation, sports fields, and the picture-perfect oceanfront neighborhoods of Hermosa Beach and Manhattan Beach. Go on an easy and leisurely hike while taking in views of the hillside, gorgeous homes, pristine beaches, and the Pacific Ocean in the distance.

Sled down Hermosa Beach's sand mountains

Head over to Hermosa Beach's famous dunes for a day of sand sledding. The sand berms fan out from both ends of Hermosa Pier, offering panoramic views of oceanfront property. The dunes are not as steep as the ones in nearby beaches, making them ideal for younger sand sledders.

Play beach volleyball

Hit the beach and sign up for beach volleyball lessons at Volley Camp Hermosa or Hermosa Volleyball. The company offers fun classes to beach volleyball players of all skill levels. Playing the sport is a great way for kids to burn off excess energy, meet new people, and improve cardiovascular health.

Ride your bikes on The Strand

Go biking along a scenic paved path called The Strand, also known as the Marvin Braude Bike Trail. It stretches for 22 miles along the Pacific Ocean, offering stunning views of the water and the immaculate shoreline.

If you're up for a longer bike ride, you and your older kids can go all the way to the Venice Boardwalk. You can take quick stops along the way – just bring a bike lock to keep your wheels secure.

Visit the park

Hermosa Beach has three well-maintained parks that the tykes will surely enjoy. South Park has expansive fields where the kids can roam and play games. There's also a cement path around the perimeter where they can skate, bike, or jogging.

Come to Fort-Lots-of-Fun and check out its distinctive play structure and take in views of the Pacific.

At 5.33 acres, Valley Park is among the largest parks in the area, with a massive playground, an open area, and fire pits.

Paint and draw

A trip to Art Zone will bring out your child's creative side. Their famous art-play programs are geared towards children 18 months and older, and include fun activities like art classes, art camps, and open studios. Spend the day drawing, finger painting, and molding clay. Kids can also play dress up and simulate cooking in a mud kitchen.

Burn energy at Play Hive

Take the kids to Play Hive, an indoor play area with slides, ball pits, and an endless array of toys. They also host birthday parties and seasonal events like Brunch with Santa. Babies under nine months can play free of charge when accompanied by a paid sibling.

Go to a farmers market

Catch the farmers market at Hermosa Beach Pier Plaza, where you can buy everything from kimchi and Jamaican-style meats to vegan meals and a variety of olive oil and balsamic vinegar blends. Younger kids will like the live music and food demos. Their older sibs may enjoy a donations-based yoga class or a gardening workshop offered on occasion. All will love the views of the beach.

Try some gelato at Paciugo

Beat the heat with a cup of gelato and a bowl of chocolate-covered strawberries. Paciugo is a Hermosa Beach Pier mainstay with a large selection of gelato flavors to choose from. Try the Peach Bellini, Red Velvet, or Peanut Butter.

Go on a tour of Hermosa Beach Historical Society & Museum

Learn about Hermosa Beach's history, culture, and landmarks at this museum. The permanent exhibits include photos, books, posters, surf boards, trophies, and other memorabilia. Highlights include a vintage jukebox on which you can play classic surf guitar tunes.

Have pancakes at Martha's 22nd Street Grill

Grab a bite at Martha's, one of the best loved restaurants in the community. The hearty menu consists of omelets, salad, pasta, shake, and other tasty treats.
Enjoy oceanfront living in Hermosa Beach. 3 Leaf Realty would be happy to assist you. Call them at (310)546-6300 or send an email to Realtor(at)3LeafRealty(dotted)com.