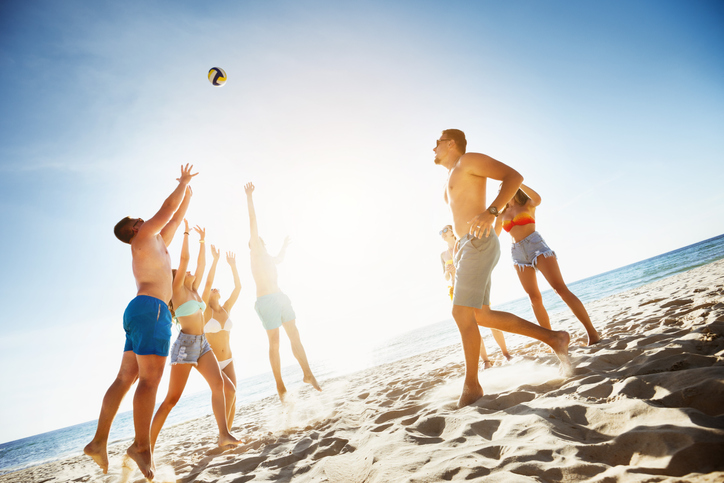 Sure, lounging on the sand, sunbathing, and watching the waves crash into the shore is fun, but there are plenty of other things you can do at the beach. Here are some of the best ones:
Play beach volleyball

Try your hand at beach volleyball; one of the most commonly played sports at the beach – and especially at Manhattan Beach, the home of the Manhattan Beach Open. While some beaches already provide a volleyball net for public use, you can still play without one. Because of the sand's uneven surface, you'll end up burning more calories and getting a full-body workout.

Go fishing

If your beach permits fishing, cast a line into the ocean and see what kind of fish you'll reel in. You don't need to buy fishing gear if it's your first time or just planning to try it out. Many fishing spots by the beach have bait and tackle shops nearby.

Collect seashells

Bring a piece of the beach home with you by collecting seashells. Just leave the empty spiral shells alone and make sure that you don't take any shells with creatures inside.

Go for a run

Another great beach workout is going for a run. Just like beach volleyball, running on the beach makes for a challenging workout due to the uneven surface. If it's your first time to run on the beach, take it slow and stay on the wet sand. Your lower legs need to get used to running on the sand, especially if you're doing it barefooted.

Practice yoga

Doing yoga on the beach provides plenty of benefits like strengthening your body, enhancing your meditation, and giving you much-needed vitamin D. The best time to practice yoga on the beach is once the sun rises or when it sets.

Fly a kite

The beach is one of the perfect places to fly a kite, due to the strong winds from the ocean and the vast amounts of space. There is also a wide variety of kites that come in all shapes, sizes, and designs. If you're thinking about flying a kite on the beach, the best time to go is on a windy day with low tides.

Go snorkeling

Get a glimpse of diverse marine life, from all kinds of fish to starfish and coral. If you need to rent gear, you can rent a dry snorkel and fins from a local snorkeling equipment shop. Just don't forget to practice your snorkeling techniques in a shallow area before venturing out deeper into the ocean.

Make a bonfire

If you're planning to stay past sunset at the beach, a bonfire would be a great way to keep warm. Swap stories, tell jokes, and roast s'mores with friends and family. Not all beaches allow bonfires so make sure that you ask around before starting one.
You'll never run out of things to do on the South Bay's many beautiful beaches. Learn more about the beach lifestyle in this spectacular area by contacting 3 Leaf Realty. Call 310-546-6300 today or email Realtor(at)3leafrealty(dotted)com.