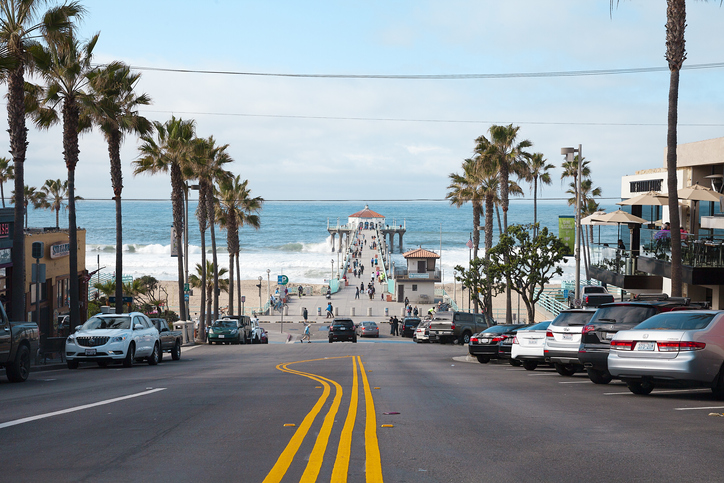 Manhattan Beach is the perfect vision of what a California beach should be. Spots for surfing, biking, sunbathing, jogging, and shopping abound, and the whole community has an upscale, laidback flair. This beach city is steeped in culture, beauty, and charm. Discover what makes it one of the best places to move in Greater L.A.
The beaches will take your breath away
Here, life on the beach is as good as it ever gets. Go down the Strand, a hotspot for joggers and cyclists, which also connects Manhattan Beach to the rest of the beach cities. You don't have to worry about overcrowded pathways, the beaches are kept amazingly clean, and with all the trendy bars and restaurants that pepper the beachfront you can dine in style whenever you feel like it.
Beautiful people live here…
Manhattan Beach has regularly figured in many "Sexiest Beaches in America" lists. Celebrities such as the Lakers' Luke Walton, volleyball Olympian Kerri Walsh Jennings, and TV personality Erin Andrews are just a few of those who call Manhattan Beach home.
…And residents are well educated (with access to great schools)
The Manhattan Beach Unified School District, one of just over a dozen National Green Ribbon School Districts in the country, has some of the highest-ranked schools in the state and the US. Mira Costa High School, for example, recently got a Gold award at U.S. News & World Report's 2018 ranking of the best high schools in the country, placing #50 in the state and #325 nationwide.
Also, according to the latest census estimates,98.2% of the population are high school graduates, while 75% have earned a bachelor's degree or higher.
You'll feel right at home, no matter what stage you are in life
Manhattan Beach is home to people belonging to many different generations and professions. Here, it's not unusual to find career professionals, retirees, and young families mingling with each other in the same neighborhood. The city has a total population of 35,741 (as of 2016 estimates), with 24.6% aged under 18 and 15.9% aged 65 and over.
Commuting times are pretty decent
Nobody wants to waste precious time stuck in traffic. Especially at day's end when you're tired from work. The average commute time in Manhattan Beach is 26.2 minutes, which is quite acceptable, considering that the So Cal average is 53.7 minutes, the eighth longest trip average in the nation.
Ask us about your options in Manhattan Beach real estate
Life on Manhattan Beach is serene, laidback, and fulfilling. If you're interested in making the move to what Niche.com recently named the #2 best suburb to live in the Los Angeles area, we'd love to be of service. Over the years, 3 Leaf Realty has helped many prospective home buyers find the perfect Manhattan Beach home, and we look forward to doing the same for you. Give us a call at 1-310-546-6300 or send an email to Realtor(at)3leafrealty(dotted)com. Let's find your dream home in Manhattan Beach today!